Whatever the means of transport AXA Partners is at your side to ensure full mobility in any circumstance.
In case of mechanical/electrical failure, accident, tyre puncture, fire/theft or battery, we guarantee comprehensive assistance to all types of vehicles (including electric vehicles) with innovative and unique solutions.
eRescue to manage roadside assistance in a fully digital and autonomous way.
Here with you for real-time monitoring of the tow truck arrival time and many other solutions to be close to your customers when needed.
16,000

automotive professionals worldwide

20

seconds

response rate in 95% of calls for roadside assistance

2

days

average time to process a claim's request
Our mobility services provide protection not only for classic thermal cars but also for electric vehicles, be they cars, e-bikes, moped or scooters. We have developed targeted services for these new and increasingly used means of transport. From the reimbursement of the charging cable in case of theft to vehicle transportation in case of breakdown of the Wallbox, to the installation and maintenance of the charging station.

Working towards a greener future
The industrial transition and the even more broader mobility revolution in the automotive sector have increased awareness towards environmental impact.
To support the environment and contribute to the reduction of pollution, AXA Partners for a long time has been strongly supporting green technologies through the development of specific insurance products and services. InCarica is the new product which includes a series of exclusive services designed specifically for those that have transitioned to the use electric cars: from alternative transport services, in the event of technical or mechanical problems, to on-site charging of the vehicle or towing to the first available charging station, or even sending a technician to repair the Wallbox installed at your home.
A truly complete set of services to make mobility secure and worry-free, because protecting the environment is a duty, but being assisted in a correct way is a right!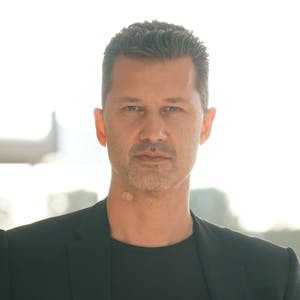 Stéphane Coulot
CEO AXA Partners Italia
The pandemic coupled with profound transformations already under way in the automotive industry have accelerated the development of new mobility models. The market is shifting towards increasingly less polluting means of transport, thanks to electric cars. We are always searching for and providing a strong value proposition to our customers. We believe in the sharing economy, in all that enables us to maximise the use of consumer goods, not only preventing the waste of resources but also boosting their efficient use.